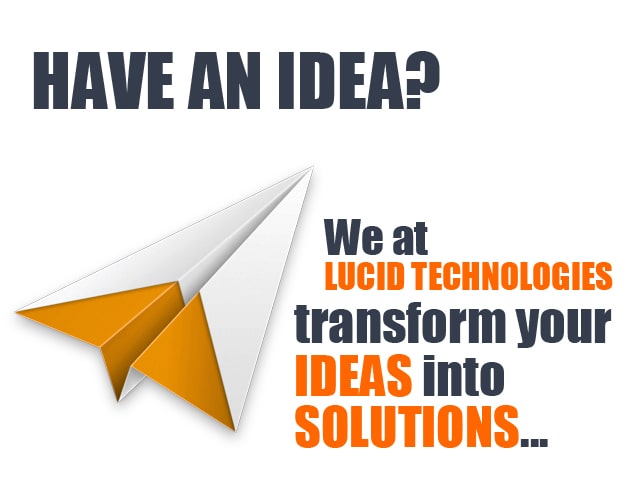 About Us
Lucid Technologies is the brainchild of a group of IT professionals with a vision on emerging requirements for today's IT Market. Coming from diverse professional backgrounds, we have felt the need for a different approach to Software development, consulting and training within the industry. This has motivated us to formulate a unique approach to help organizations to become a more effective & competent with the technologies. Lucid Technologies, Inc has been providing faster, smarter, better information technology solutions and consulting services around the world for a variety of industries including energy, healthcare, financial, pharmaceutical, telecommunications and government services.
We have been delivering high quality, reliable and cost-effective IT services to customers globally. We provide world-class technology services by constantly exploring and implementing innovative solutions that drive long-term value to our customers. We have demonstrated a high degree of flexibility, scalability and service orientation to enable us meet the strategic goals for some of our clients.
Lucid Technologies, Inc is a leading IT and business process services provider that has a combination of the deep knowledge of technology and business process and leveraging its vast experience in providing information technology solutions. We deliver end-to-end solutions through valuable strategy development, consulting services, and unique delivery capabilities.
Meet Our Team
Shashidhar Devireddy
President & CEO
Extensive experience in Strategic HRM, Strategic Management, International Management, Managing Multiple Projects, Software Analysis, software Development / Work Plans, WBS, Budget / Financial Analysis. Expertise in leading multiple offshore/onshore projects, Vendor Management.
Specialties: IT Management - Strategist or Architect, IT Management, Business Analysis, Project Management.
Srinivas Karnati
Vice President
Experience encompassing in the IT Staff Augmentation and Consulting space,new business development and managing large client accounts. Handles various duties including: Service, Sales, Oversight, Execution, Team Building, Upbringing Employee Motivation, Team Management, Client Management, Strong Ethical Quotient, Off shore, Off Site/Onsite expertise and managing several recruiters.
Specialties: Business management, Sales, Recruiting, Project Management, Business Development
Dr. Mukund Narasimhan
CTO
Extensive experience in Software & Web development from concept through implementation with Ruby on Rails framework, Experience in developing scalabe applications, systems engineering, algorithms and software/architectural design patterns with main emphasis on OO and MVC, Data modeling, User Interface design.
Specialties: Ruby on Rails, MySQL, Postgres, HTML5, JQuery, CSS3
Anand Thaduri
Director of Consulting Services
More than a decade experience in the IT Industry and as Director of Consulting Services. He has been playing a key role in strategic planning, establishing alliances & partnerships and focusing on business development. He has been instrumental in growing the sales team, getting new client accounts and in talent acquisition.
Specialties: Client Relationship, Management Skills, Recruitment, Interviewing, Performance Management, Employee Relations, Training & Coordination, Induction Programs, Immigration, Project Management.